WACHE is a support group for Christian home educators in Woodland, CA and surrounding areas.

We believe that our children are gifts from God, and that we have the responsibility to train and instruct them according to God's principles.
Our primary purpose is to support Christian home educators.
As homeschooling families, we work together to provide opportunities for our children to grow, through classes, field trips, monthly support meetings, and many other activities.
Working together also provides strong support and encouragement for us as individual families.
And these words, which I command thee this day, shall be in thine heart: And thou shalt teach them diligently unto thy children, and shalt talk of them when thou sittest in thine house, and when thou walkest by the way, and when thou liest down, and when thou risest up. Deuteronomy 6:6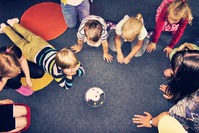 We invite families to join our support group. We ask that you fill out a registration form, and pay the registration fee, due each September.
To receive a registration form or for more information, please contact us.
Benefits of membership include:
Monthly Support Meeting - Our Support Group is designed to provide on-going support for parents in a small-group setting. Members also sponsor and organize activities, field trips, group learning classes and parties for the children, often enjoying group discounts for these activities.
Weekly Park Day - Members meet weekly at various parks for fellowship and support.
Email List - Member's interact, exchange information and support. The main communication tool for our group.
Resource Library - The WACHE Library offers many free resource materials including curricula, audio cassettes, videos, parenting books and inspirational reading available for one month check-out by our subscriber families.
Graduation Ceremony - Graduating high school and junior high students of members are eligible to participate in a ceremony organized by parents and graduating students. This is a meaningful event for family and friends to attend and a beautiful way to acknowledge the personal accomplishments and educational achievements of your graduate.
Annual Project Fair - A mini fair of our own. Entries will be accepted in a variety of age-sorted categories including science, home economics, arts and crafts.